Cristabo Dalmatians (based in the Wellington region of the North Island of New Zealand) was started by Carla Walsh in 1998 as a small select kennel breeding for good type and temperament.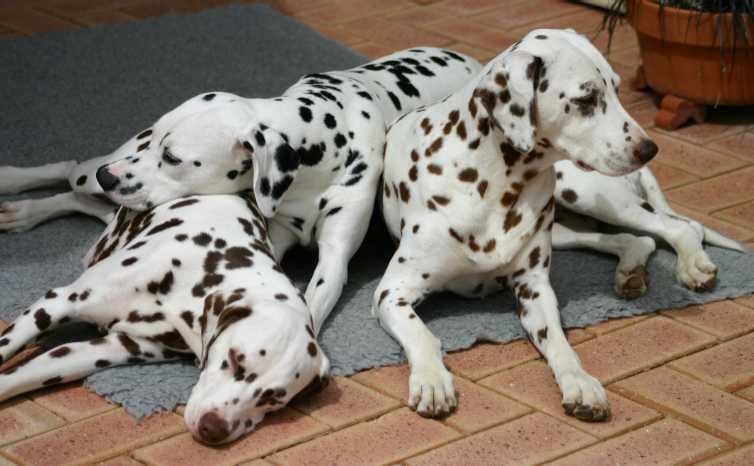 The kennel has since expanded to include Bronwen Munro who resides in the sunny Marlborough region of the South Island of New Zealand and a core group of close friends who help handle and care for the Cristabo show team.

Our dogs (like all Dalmatians) are primarily companion dogs. This means that they live in the house as part of the family, sleep on beds and take over couches - (and we wouldn't have it any other way!)  Besides the home life of luxury they lead, they get exercised on a daily basis, have plenty of free running on our rural properties and go away in the weekends to various dog shows where they get to strut their stuff and socialise with their buddies. What a life! 

Carla is NZKC recognised judge qualified to award challenges at Championship level for all breeds in the Non-Sporting Group (non_sporting_standard.pdf)  and also on the judging panel for Open Shows ( for All Breeds). Carla has judged the Non-Sporting Group in NZ, Australia and Norway and judged Dalmatian Specialty shows in Canada and Australia.  I will be focussing on the Utility Group next. 

Cristabo litters are planned when we are looking to keep something for ourselves to contribute to our gene pool and hopefully hit the show ring.  Cristabo puppies are usually booked well in advance of puppies on the ground and we like to maintain a waiting list for puppies to ensure that there is enough interest from people wanting to provide wonderful family homes for our babies. All puppies are reared in the house and get the best of everything to ensure the best start in life. They are sent to new homes with their own puppy pack including food to start you off, vaccination, worm and flea treatment, baby & parent photos and some helpful hints to get you started. All Cristabo Dalmatians are BAER hearing tested along with other health and temperament testing.   Cristabo Dalmatians have been exported to wonderful homes in Germany, New Caledonia, Canada and Australia. 

For more information on Dalmatians and whether one of these wonderful dogs might be right for you, please feel free to give me a call or send me an e-mail. I'm always happy to talk about my favourite subject . 
Carla Walsh
Cristabo Dalmatians
80 Brookfield Lane
RD 1, Moores Valley, Wainuiomata 5373
NEW ZEALAND
Telephone: +64 4 5641611
Mobile: 027 5641611
email: cristabo@xtra.co.nz
Bronwen Munro
Cristabo Dalmatians
2080 Hwy 63, RD 1
Blenheim 7271
NEW ZEALAND
Telephone: +64 3 572 2739
Mobile: + 64 21 110 9684
email: Bron.mun@xtra.co.nz
You are visitor number: 112617